Two-Factor Authentication (2FA) adds a layer of security to your account and helps ensure only you have access to your Titan email account.
Read on to learn more about using 2FA for your Titan account.
How to set up 2FA
Setting up 2FA on your account ensures your email remains safe and secure. Follow the steps listed below to get started with it.
1. On the Titan client, click on Settings (gear icon) on the top right corner. Go to Preferences > Security.
| | |
| --- | --- |
| image-shadow | |
2. Click the "Set up now" button.
3. Verify your identity by entering your account password.
| | |
| --- | --- |
| image-shadow | |
4. If you are currently using an authenticator app, click on "I have an authenticator app."
In case this is the first time you are ever using 2FA, you can download any one of the popular authenticators listed below:
5. Set up 2FA in your authenticator app either by scanning the QR code or using the setup key and click on "Next."
| | |
| --- | --- |
| image-shadow | |
6. Enter the 6-digit code shown in your authenticator app and click on "Verify."
| | |
| --- | --- |
| image-shadow | |
7. Once verified, you can choose to email or copy your recovery codes. We strongly suggest keeping a copy of your recovery codes or emailing them to your alternate email address. These recovery codes will be required for login if you don't have the authenticator app handy.
| | |
| --- | --- |
| image-shadow | |
8. Complete! You have now successfully configured 2FA for your account
| | |
| --- | --- |
| alert-warning | To protect your account, accessing email via 3rd party clients like Gmail or Outlook will be blocked when Two-Factor Authentication is enabled. |
How to edit 2FA Settings
Once you have set up 2FA, you can change the authenticator app, view security codes, or disable 2FA at any point in time.
To go to the 2FA settings, please follow the below steps.
Click on Settings

in the top right corner.

Click on Preferences > Security > Manage.

Enter your password to edit the 2FA configuration.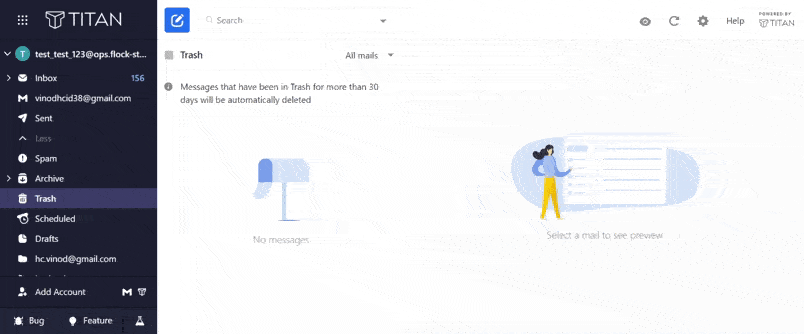 You can manage your 2FA settings to change the authenticator app or to view your recovery codes.
We hope this was helpful. To learn how to log in using 2FA and how to disable 2FA, click here.
Feel free to reach out to us at support@titan.email for further guidance and we'll be happy to help!